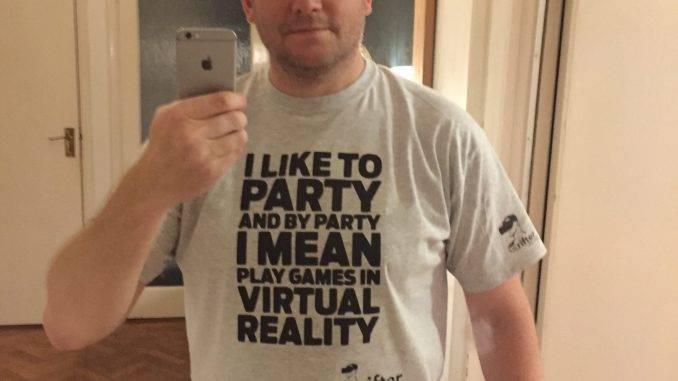 Yes, it's my own design and my own carefully thought-out slogan. I haven't been so vain as to believe that people want UKRifter merchandise just yet, but it just make a cracking YouTube shirt and a non-sweat soaked one may feature in a giveaway soon, you know… if I can be arsed.
If you are interested then fill out my survey and let me know and you will be at the top of the list – https://www.surveymonkey.com/r/LDS8D66
Let's log this quote for eternity.
I like to party, and by party I mean play games in Virtual Reality
– Christopher Gray aka UKRifter
… and one more quote from a prospective customer.
With the greatest respect ..
I have enough trouble, as it is, getting laid.
– pittsburghjoe
by Christopher Gray aka UKRifter
Subscribe UKRifter's Virtual Reality Channel Below
[youtube-subscriber nickname=theukrifter]